Amy Shark remembers very clearly the day her song Adore was added to rotation on Triple J. "Everyone contacted me."
Her phone rung off the hook as excited label managers, booking agents and prospective management companies realised she was unsigned. Within a week, Shark was being flown from Australia to New York at the behest of Republic Records.
"I was meeting so many people and it was so, so ridiculous," Shark recalls. "I'd been trying to get these people's attention for so long."
By the time January 2017 rolled around – less than six months after the track made its radio debut – Shark had signed to Sony, and Adore reached No 2 on the national youth radio station's coveted annual countdown, the Hottest 100, eclipsed only by Flume's Never Be Like You. Not bad for an artist who, just months prior, had been ready to throw in the towel.
Triple J's group music director, Richard Kingsmill, says he wasn't surprised Adore became such a huge hit. "I remember how it stuck out in the mix at the time. There wasn't a lot of songs that sounded like it. It was also so unguarded. The 'rubbing against my arm' line hooks you in at the start … she means every word. And thankfully the song builds but doesn't get too overblown. It doesn't need a wailing crescendo. It says something simple and pure, and all it needed was a sincere delivery, and that's what Amy nailed."
Guardian Australia meets Shark at the Sydney headquarters of Sony Music, where a couple of gold records of her recent single, I Said Hi, lean against the wall of an office cubicle (the single has since gone platinum). The song was written as a swipe at her detractors and has proved her new music won't be overshadowed by her breakthrough single's success.
Dann Hume, a producer on her forthcoming debut record, Love Monster, says the single was written at the last minute, the night before her final day in the recording studio. "It's an example of how hard-working she is," he says.
It's a bleak, rainy day in Sydney and Shark is dressed in a baby blue windbreaker, paired with black skinny jeans and sneakers. Her hair is half-down, half-up, with a section tied in a bun – a style which, along with her penchant for Adidas clothing, has become something of a trademark. In person, Shark is warm and unguarded, and evidently reeling from the circumstances she finds herself in.
A few weeks out from the release of Love Monster, Shark says she is feeling "anxious and great".
"I never thought I'd get to do this. It was just something that I had given up on."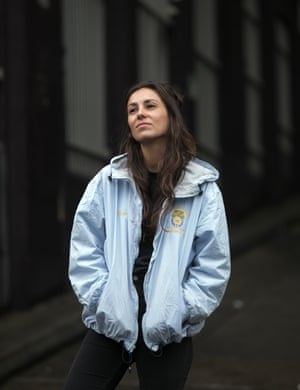 The 14-track album is ambitious, sleek pop, accented with Shark's simple, plainspoken approach to songwriting. She never seems worried about being too vulnerable or transparent. Her lyrics – peppered with vivid details: cold bathroom tiles, slippery patios, a bag hanging off her arm – make the mundane seem anthemic. The album's weaker moments only arrive when Shark gestures with broad platitudes that can, at times, feel half-rendered.
Love Monster is partly invested in the synth-pop sound of the moment, but is unique in the way it utilises pop-punk melodies and cadences. Blink 182's bassist, Mark Hoppus, even lends his vocals on the downcast Psycho. Shark says she grew up enamoured with the genre. "I was going to these [pop-punk] shows and they were selling out these big places, and their records were doing so great and I was like, 'They don't sound great, their voices are shit.' And I was like, 'I can write like this.'"
The song All Loved Up, a collaboration with producer Jack Antonoff – who recently produced Taylor Swift's snaky, menacing Reputation and co-wrote and produced Lorde's pop triumph Melodrama – is a clear standout on the LP. Antonoff and Shark came into each other's orbit last year when his then girlfriend, Lena Dunham, tweeted to Shark: "Hardly exaggerating when I say you saved my life these past few weeks," before tweeting out lyrics from her track Weekends.
All Loved Up bears all the trappings of an Antonoff song: 80s-inspired instrumentation, thudding bass and a soaring, melodic chorus. Lyric-wise, it plays on Springsteen-reminiscent tropes of small town/big dreams, with Shark intoning: "I've been living in a small town way too long/ Growing up just want to do something big."
Shark – born Amy Louise Billings – grew up on the Gold Coast, where she had a "really sad life", she jokes, before correcting herself, "No, it was great, actually. Like, it was so relaxed, maybe too relaxed." The small city is better known for its beaches, tourism and schoolies antics than its musical output. Shark took up guitar as a teenager after her brother started playing. Her stepfather dubbed her bedroom "the Batcave", where Shark would spend hours practising. "I just had a real obsession with it," she says.
When Adore blew up, it seemed as though Shark had emerged out of nowhere. Actually, Shark had spent most of her 20s toiling with her music. She started out in an all-girl punk band, which she cringes when she talks about. After the band broke up, Shark stepped out on her own, but found herself playing shows to no one and on the receiving end of a laundry list of rejections. She was turned down the first time she applied for the government grant that would eventually help her record and produce Adore. All the while Shark worked as a video editor for rugby league team the Gold Coast Titans and played cover gigs to fund studio time, an experience she describes as "soul-destroying".
"I wanted to tell them all in those bars, 'You know I'm here to make money to go to the studio tomorrow, to write my own music and play my own songs.' But you can't do that. You've got to put on a smile and sing the songs, just get through the gig."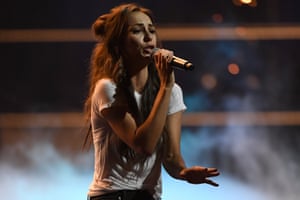 Stuart MacQueen, the director and co-owner of Wonderlick Entertainment, which signed Shark, says this experience has made the singer acutely attuned to the difficulties of the music industry.
"Amy had to do it tough for a long time before Adore changed everything, so she doesn't take any of the success for granted," he says, adding that during the long and competitive battle to sign Shark, she displayed "one of the most finely tuned BS meters I have ever seen".
From sold-out live shows to a slot on The Tonight Show Starring Jimmy Fallon to her debut EP, Night Thinker, reaching No 2 on the Aria charts, it is more than just dumb luck that Shark is finding success at this particular moment. Through the rise of streaming and the "mindie" (mainstream indie) artist, pop music is more fractured and expansive – and more willing to open its doors to artists like Shark.
Now in her early 30s, Shark finds herself in radically different circumstances to those she grew up in as an artist, but it's not without complications. It's hard, she admits, financially and otherwise, to work within the confines of Australia's small music scene.
"People think you're just killin' it and popping the champagne off of yachts," she says. "It's so not like that."
Will the new album change things? Maybe, says Shark. "But right now, it's really hard work."
Amy Shark's debut LP, Love Monster, is out 13 July