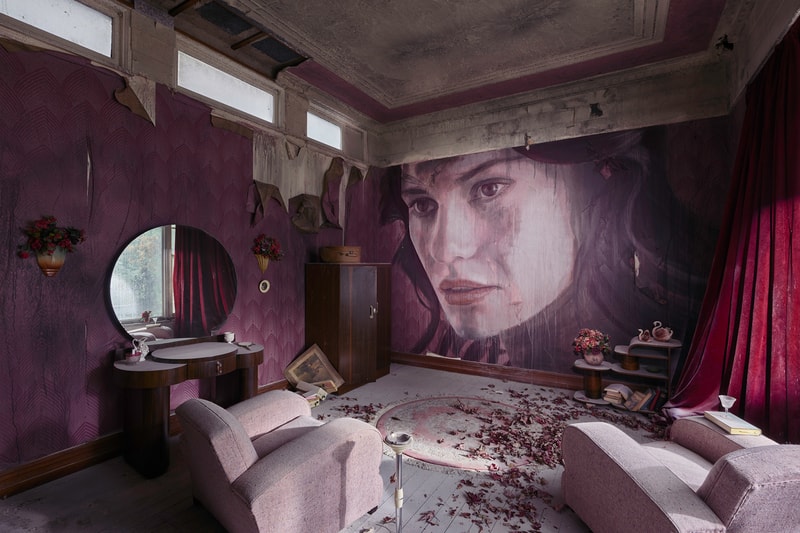 Internationally-acclaimed street artist and muralist Rone just completed a massive project entitled Empire. The Melbourne creative's sprawling new installation is located inside an abandoned mansion located in Sherbrooke, Australia. It took over 12 months to complete the giant endeavor that features large-scale mural portraits painted on the walls inside the establishment's dilapidated rooms. The project is much larger than Rone's previous endeavor entitled Omega that saw over 10,000 attendees over nine-day opening back in 2017.
These portraits were inspired by the film Hurt by director Mark Romanek. Instead of pulling direct references from the Johnny Cash biopic, Rone opts for "unguided ambiguity, encouraging audiences to ask their own questions and create a storyline based on their own perception and experience," as per an exclusive statement.
"I want people to walk in and feel like they can explore the possibilities of what might or might not have happened here," said Rone. "I love exploring the concept of how — and why — something so magnificent can be left to decline into ruin. Empire is about offering audiences the chance to create their own story; to temporarily transport their minds to another place, another time."
The artist worked alongside Loose Leaf Studio to build striking botanical installations throughout the space. Moreover, the artist collaborated with scent designer Kat Snowden, lighting designer John McKissock, and film composer Nick Batterham who helped create a 45-minute, 15-channel composition that plays throughout the mansion. Collectively, the groundbreaking project is part installation, part VR and AR experiences.
Tour the Empire above and then head over to r-o-n-e.com for further details. The installation will be on view starting March 5 until April 22.
Dates
6 March –
22 April 2019
Location
Burnham Beeches Mansion
1 Sherbrooke Road,
Sherbrooke, Australia
Tickets
Day Session
Adult: $15 AUD
Concession: $13 AUD
Child: $10 AUD
Evening Session
Adult: $25 AUD
Concession: $13 AUD
Child: $10 AUD
Click here to view full gallery at HYPEBEAST