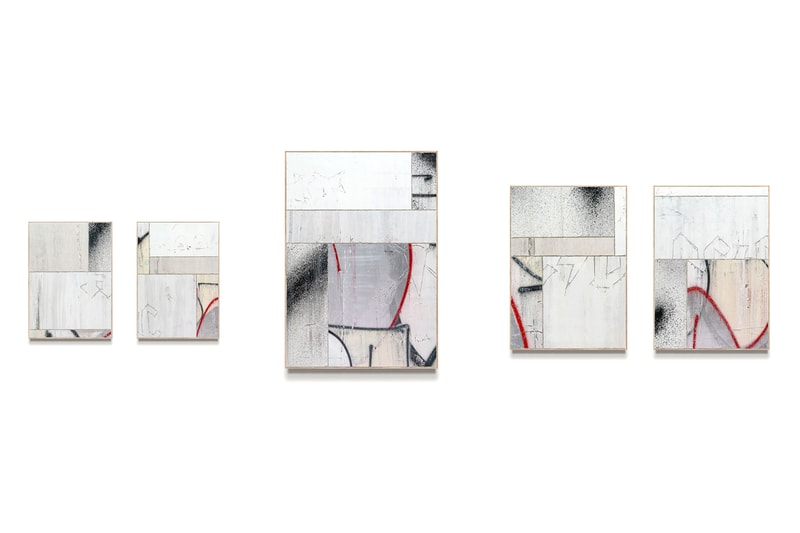 Internationally-recognized graffiti artist TILT will soon display new original artworks for an upcoming exhibition at Kolly Gallery in Zurich, Switzerland. Entitled "AC/DC!," the presentation will spotlight a series of mixed-media pieces that evoke TILT's rich street art background and "anti-aesthetic" approach. The grid-like composition of these works call to mind the work of Piet Mondrian. Instead of utilizing clean and concentrated blocks of color like the iconic Dutch painter, TILT favors scratchiti, throw ups, tags and paint-splatter motifs developed atop diverse industrial building materials such as concrete.
"The artist was inspired to entitle the exhibition AC/DC because it is one of the most primitive as well as most well known scratchiti appearing in the public space around the globe, said Kolly Gallery curator, Tania Di Brita. "The heavy heritage of the graffiti tradition is used as a tool to evoke a representation or memory of a rebellious as well as anarchic act of a past era of subculture."
View a selection of works to be displayed "AC/DC!" in the slideshow above. The show will be open to the public from March 4-8. Head to Kolly Gallery's website to learn more.
For more dynamic exhibitions, check out our list of must-see shows during NYC's Armory Week.
Kolly Gallery
Seefeldstrasse 52
Zürich, Switzerland 8008
View this post on Instagram

Kolly Gallery is excited to reveal Tilt's new series entitled AC/DC from March 4 – 8, 2019. Transience and gestural traces of urban environment are portrayed in Tilt's body of work. He dedicated himself to portray a very pure and anti-aesthetic approach, which makes graffiti writing unique and intriguing. Layers of paint, spray paint and markers constitute a certain depth and intricacy in his works. @this.is.tilt #kollygallery #artgallery #contemporaryart #urbanart #graffitiart #tilt #thisistilt #acdc #artwork #graffiti #graffitiart
Click here to view full gallery at HYPEBEAST