I've never seen so much adidas street wear till this day and age. Some time between now and last spring adidas did some serious marketing and rebranding. They were able to get everyone and their mother sporting the signature black and white colors. Many think its due to the fact Kylie Jenner wore the brand so much and she sparked an intrest among her audience, and many others bring up the fact that professional dancers wear the brand.  
We think that it was just a good push by the marketing team of adidas. They found a person that people overly loved and overly hate and had her wear the brand creating a mix of views on adidas, but the cloths looks so good how could you not want it. I can say they will reign among the top of the Street Wear ladder for quite some time.
Some Adidas choices from us:
Dots Allover Print Trefoil Sweatshirt
With a relaxed fit and a drapey look, this women's sweatshirt is made in a polka-dot French terry. A big Trefoil across the chest finishes the look.
Europa Track Pants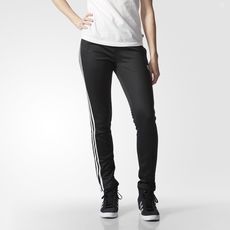 A casual classic, these Europa Track Pants feature 3-Stripes on each leg and a flocked Trefoil. The easy-to-wear women's track pants have practical details designed right in, including pockets and ankle zips.
Slim Supergirl Track Pants
With spot-on style, these Slim Supergirl Track Pants have a flattering skinny fit in polka-dot tricot. Inspired by the iconic Firebird design, the sleek women's track pants are finished with 3-Stripes on the legs and a Trefoil on one side.
Superstar Track Jacket
This men's track jacket keeps the adidas Superstar legacy alive with a timeless 3-Stripes look. It's made in interlock with all the authentic details, including the signature Superstar collar.
Kanye West Edition Coming Soon!