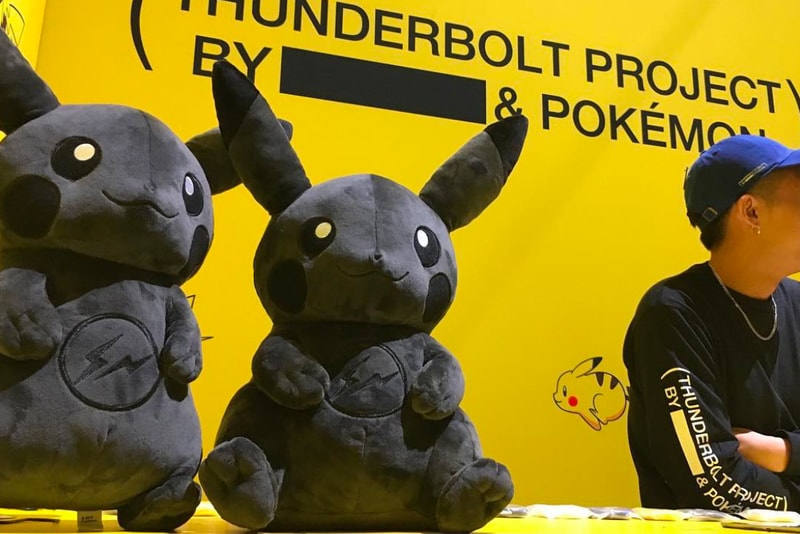 Following up an initial announcement post, Hiroshi Fujiwara's THUNDERBOLT PROJECT BY FRGMT & POKÉMON has now unveiled dates for its upcoming pop-up at The Conveni.
The pop-up at the Ginza Sony Park's special retail experience is set to include items which debuted at HYPEFEST, along with new items and kids sizes that will be featured for the first time ever. Some new pieces include a Shadow Pikachu hoodie, fragment design POKÉMON font caps and THUNDERBOLT PROJECT retaW fragrance tags. The first Japan pop-up for THUNDERBOLT PROJECT BY FRGMT & POKÉMON will follow the same raffle entry system used at The Conveni normally.
Check out some of the new items and get more details regarding the pop-up  which runs from November 24-December 2 below.
In case you missed it, the latest Pokémon: Let's Go! trailer showcases Red, Green, and Leaf.
View this post on Instagram

"THUNDERBOLT PROJECT" is teaming up with @theconveni and hosting our first Japan pop-up store @ginzasonypark for a limited time only, Sat Nov 24 – Sun Dec 2, 2018. The items from @hypefest , first ever kids size and many exclusive Ginza items will be available for purchase. Date: Sat Nov 24 – Sun Dec 2, 2018 Hour: 10:00AM-8:00PM Location: Ginza Sony Park @ginzasonypark , B1F [Entrance] Depending on the date, we may limit visitors by conducting raffles in advance. *Follow us here and @theconveni for our latest news on limited items, advanced opening access, exclusive offers and more. *"Pokémon GO" has no involvement in this event.  「THUNDERBOLT PROJECT」は「THE CONVENI @theconveni 」とタッグを組み、2018年11月24日(土)~12月2日(日)の期間限定で、国内初となるPOP UP STOREをGinza Sony Park @ginzasonypark で開催します。HYPEFEST @hypefest で販売された商品はもちろん、初のキッズサイズの展開含め、GINZA限定アイテムも多数登場します。 開催期間:2018年11月24日(土)~12月2日(日) 営業時間:10:00~20:00  場所:Ginza Sony Park B1(地下1階) @ginzasonypark 【入場について】 日程によって、事前抽選を行う場合があります。 ※事前抽選のご案内、限定アイテムのラインナップなど、今後は本アカウントと @theconveni にて最新情報をお知らせします。 ※本イベントはアプリ『Pokémon GO』との関連はございません。 #thunderbolt_project #tb_project #hiroshifujiwara #藤原ヒロシ #pokemon #ポケモン #theconveni #theconveniginzasonypark #ginzasonypark #銀座ソニーパーク #popupshop #popupstore #ginza
View this post on Instagram

⚡️New item⚡️ #thunderbolt_project #tb_project #hiroshifujiwara #藤原ヒロシ #pokemon #ポケモン #pikachu #ピカチュウ #theconveni #theconveniginzasonypark #ginzasonypark #銀座ソニーパーク #popupshop #popupstore #ginza
View this post on Instagram

⚡️New item⚡️ #thunderbolt_project #tb_project #hiroshifujiwara #藤原ヒロシ #pokemon #ポケモン #pikachu #ピカチュウ #theconveni #theconveniginzasonypark #ginzasonypark #銀座ソニーパーク #popupshop #popupstore #ginza
Click here to view full gallery at HYPEBEAST