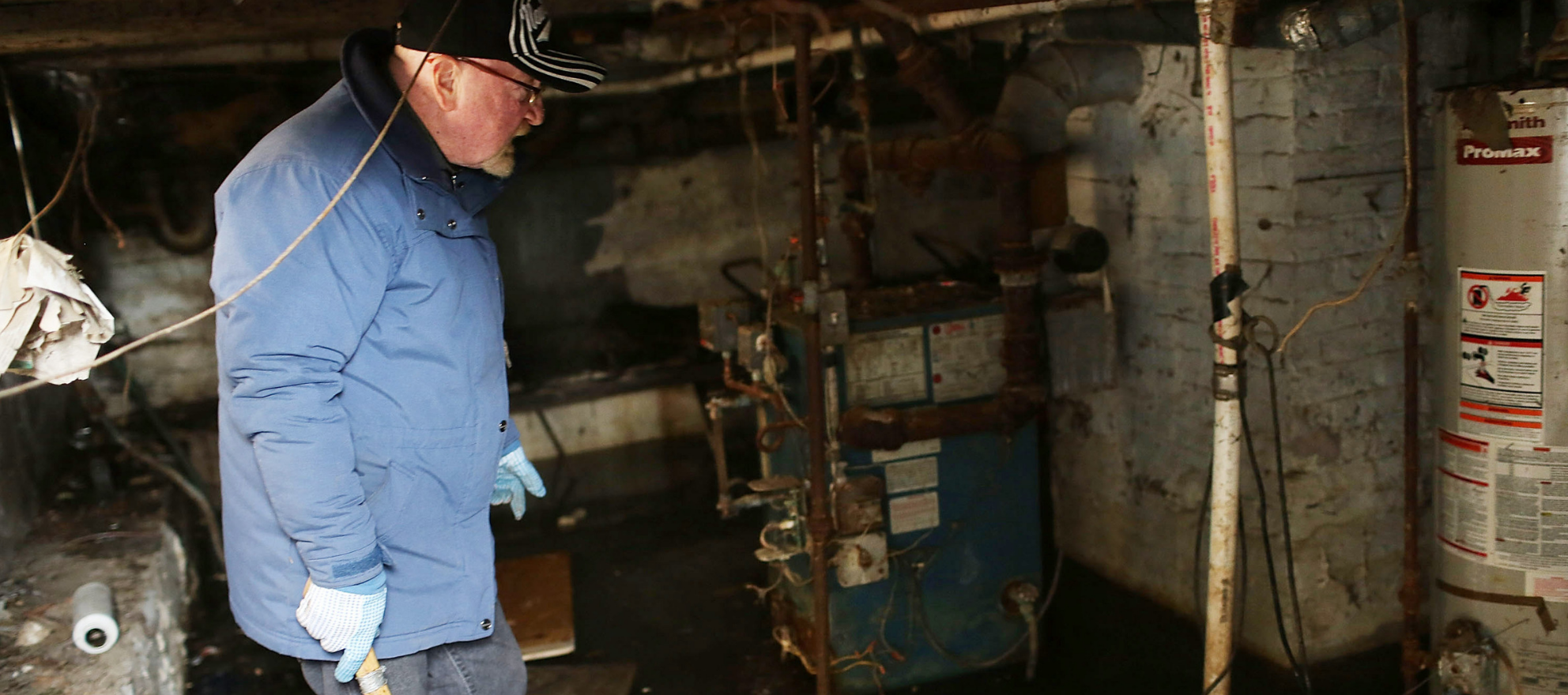 Hearing a ruckus in your basement? Don't ignore it — it could be the beginning of an impending hot water tank failure.
Scott Schnurr, the CEO of Chicago-based DRF Trusted Property Solutions, warned that hot water heaters are often forgotten about until a leak and the subsequent flood happens — an accident that can drain thousands of dollars from homeowners' pockets.
Scott Schnurr
"About 98 percent of our customers call after the water heater fails and only 2 percent will proactively think 'Oh, it's about 20 years old, I better call and do something about it,' " he said.
So, what can homeowners do to make sure they're not part of that 98 percent? Schnurr shared with Inman eight simple facts about hot water heaters that can save your buyers time and money:
What's the purpose of a hot water heater?The top qualities a luxury customer looks for in an agentHow to tailor your services to clients who are used to the best of everything READ MORE
The main purpose of a hot water heater is to supply the domestic hot water heat for a physical location, whether it's for a residential or industrial property.
What's the proper way that a hot water heater should be installed?
Depending on the state you're in, most states and local jurisdictions require that you use a licensed plumber to install it. You can install it at your own property, but if you have a rental property, most jurisdictions will say that you can't install it [on your own] because you have someone else living there. The primary reason for that is because you can destroy property or cause grave bodily harm to its residents.
Grave bodily harm? What could go so horribly wrong with a hot water heater that it could kill someone? 
You're working with a device that has a pressure and temperature controlled tank, and just from the pressure from the water being overheated, it will blow that unit from the basement through the first floor, through the second floor and through the roof of a single-family unit. That's not a gas explosion, that's just from a heater that is overheated and the thermal expansion is so great that it will blow the bottom out. It takes off like a rocket.
Then you have carbon monoxide from the fuel burn, and if you're using an electrical one, there is a minor risk of electrical shock if installed improperly. You also have the [risk of] a natural gas explosion — it's a daily occurrence if you look at single-family residential and multi-family residential housing.
Because of these risks, it requires a permit for installation, and the purpose of the permit is to allow a third-party to come in and inspect it and make sure that nothing was missed and the family is safe. About 50 percent of local jurisdictions require a permit and most states require technicians to be licensed through the department of public health.
So, there're actually two options for a hot water heater — tank and tankless. What's the difference? What are the pros and cons of each option?
Tankless is still relatively new in the United States and its still the early adopter stage primarily because there's a high initial cost and that cost keeps builders from putting it in. In other countries around the world, specifically [in countries] in Europe and Asia, they've been used for much longer.
So, the biggest difference between a tank and a tankless is held in the name. The original tanks were developed in the late 1800s and they really haven't changed much. They have a tank that holds water, and its cold water in and hot water out, and a fuel source that heats the water.
The tankless is like a reverse radiator. When air flows over a radiator in a car, it cools the water. The reverse of that is that you have a heat exchanger made of materials that are very long lasting (e.g. stainless steel) and you have a flame underneath that.
As the water enters, it goes through the heat exchanger, which is a coil of pipes, and there's a flame surrounding the exchanger. The flame automatically goes on and off, and it typically raises the temperature of the water by 80 degrees between the time the water enters that unit and goes out. The benefit of the tankless water heater is that you don't have a tank to fail.
The tanks fail the same way — the metal rusts and it will begin to leak. Water damage is the top cause of insurance claims for homeowners. When you look at all water damage, water heaters rank third for the cause and the average loss is over $5,000.
It's rare that a tankless will leak, and it's usually going to have a 20 to 30-year life cycle. We've removed tankless systems that were 26 years old and still functioning, but the homeowner just wanted to upgrade. A tank unit will typically last six to 10 years, but if you're in an area with poor water quality, it will last only about three years.
How can homeowners avoid a catastrophic water damage event? What the signs that your tank needs to be replaced?
There are four big things that you'll notice: reduced hot water volume or temperature, a clunking sound, signs of leaking and calcification at the top of the unit.
The clunking sound sounds like someone is banging on the water heater from the inside. That has to do with the sediment, and it builds up into a sedimentary brick. As the water is heated below it, the expansion will cause that stuff to clunk around.
Before a heater has a catastrophic leak, it's very common to see small leaks. If you stand by the water heater while it's heating up, you'll hear a hissing or sizzling sound where drops of water are dropping on the burner. That's an indication of a leak that's not visible yet but will lead to a bigger leak.
What's the cost to replace a hot water heater? 
There's tons of different tank heaters and tank heater installation [methods]. About 10 years ago, the tanks increased in size, insulation, and efficiency with the National Appliance Energy Conservation Act. In order to make [the heater] more efficient, its become more expensive.
Years ago, you could buy a tank hot water heater for about $200, now it's not uncommon for the heater — not counting installation and delivery — to cost anywhere from $500 to $1,500. Many builders are now using a power vent heater, which doesn't require a chimney and you can vent it out the side of the house. Those can easily cost $1,500.
When you look at the full cost of install for a replacement, it could range from $1,200 up to $3,000 with a licensed contractor.
Tankless water heaters could easily range anywhere from $3,500 all the way up to $12,000. It just depends on the size of the house, how many bathrooms, and all the things you need to do. Often with the tankless water heater, you'll have to move your venting, your electric, your water pipes, and redoing all of those utilities and that's where that higher initial cost comes in.
What are some things homeowners can do to make their hot water heater last longer?
Maintenance for a tank water heater includes cleaning it intermittently because sediment builds up in the bottom of the tank, and that sediment reduces efficiency and capacity. Manufacturers actually suggest that you flush it monthly, but there's only a very small percentage of the population that do it.
The better hot water heaters have a self-cleaning feature. They don't necessarily flush, but it creates turbulence in the bottom that stirs up the sediment and helps it flow through the pipes.
To prevent floods and leaks, the best thing you can do is have it serviced annually by a company who has a qualified technician that can come out and inspect it. Typically, they can cite things that signal the beginning of a leak, improper burning, carbon monoxide issues and gas leaks. Those are all things they would check for with an annual inspection.
A lot of insurance companies are actually offering discounts if you have that done now.
We've been focusing on current homeowners, but what can buyers do to make sure they're purchasing a home with a good hot water heater?
Hot water heaters have a manufacturer date on the tag, which is required by law. Sometimes it's very obvious, and sometimes you'll have to look up the serial number online to see the date. But if it's older than eight years old, know that it's going to need to be replaced soon.
Sellers replace the appliances that you see, like dishwashers, ovens, and fridges because they're romantic and they're right there in the living space. But water heaters seem to be forgotten until they fail.
Another thing I see, especially with a brand new house is that buyers will walk through the house and it's got a beautiful garden tub in the master suite, and it's a 100-gallon tub. The big day comes, they move in, and they can't wait to use their 100-gallon tub and they find out that the builder put in a 50-gallon hot water heater.
And they really don't have enough water to fill up their tub. And builders understand the emotions of buyers — they know if they put in that 100-gallon tub, that buyers will imagine being there and want to buy the house. But, they'll make the extra water heater an option.
It's very common [for builders to do that], so I would encourage buyers whether it's a new build or an existing home, check the capacity on the water heater.
Email Marian McPherson