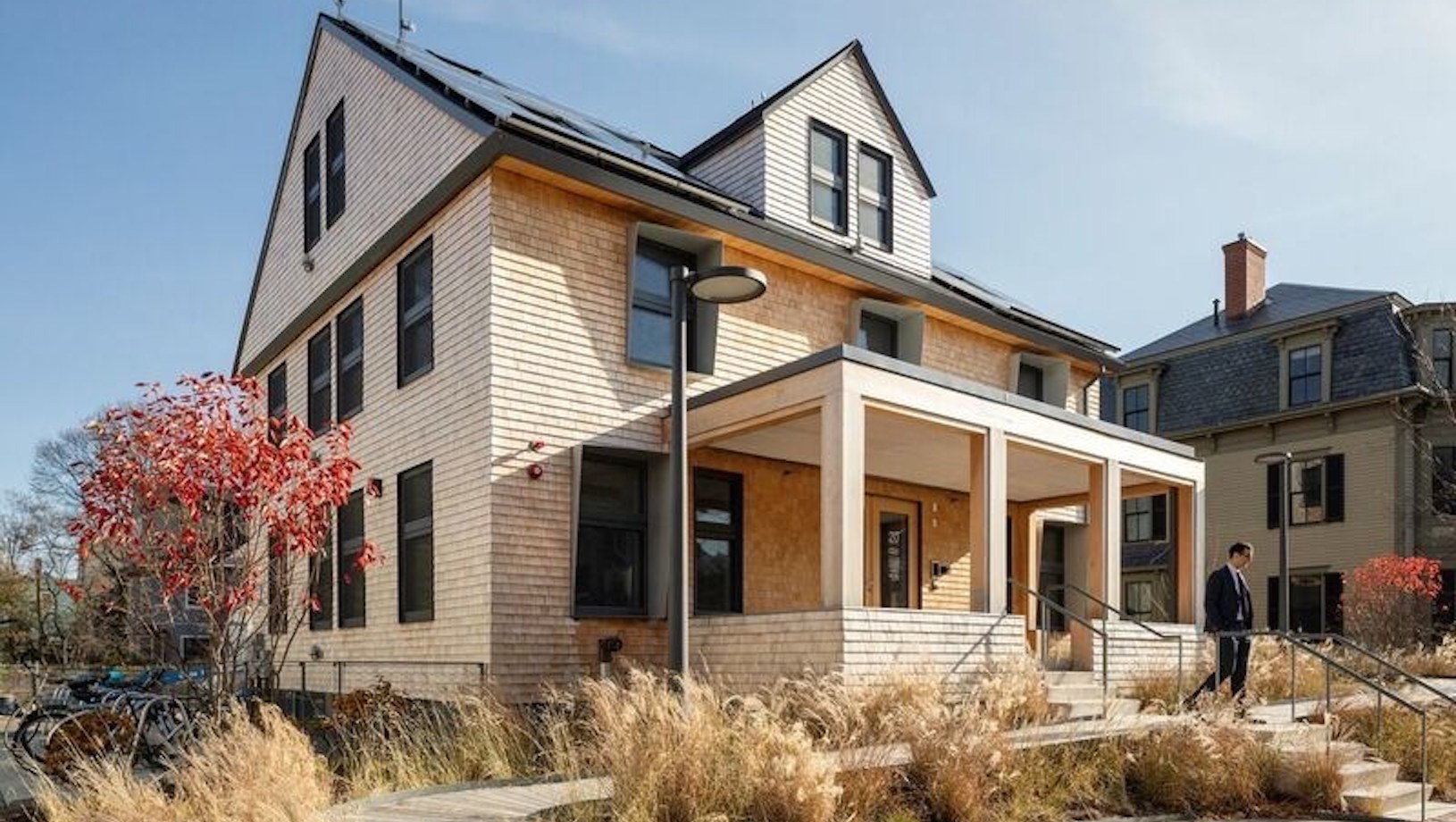 Researchers have completed their "zero-energy" retrofit of a pre-war Cambridge, Massachusetts home that serves as the headquarters of the Harvard Center for Green Buildings and Cities, a division of Harvard's Graduate School of Design. Surprisingly, the renovations don't make the home's exterior look all that radical or unconventional, despite its futuristic moniker: "HouseZero."
However, looking inside, the home is chock-full of interesting and innovative features.
Now researchers will manipulate and study the building to uncover lessons for making housing across the country more efficient.
The building has been overhauled to generate more energy over its lifetime than was used to renovate it, targeting "nearly" zero energy for heating and cooling, zero electric lighting during the day, 100 percent natural ventilation and zero carbon emissions in its building materials, according to a press release.
U.S. buildings contribute around 40 percent of the country's energy consumption, with housing responsible for nearly a quarter of that use, the department reported. Property owners reportedly dish out over $230 billion per year on heating, cooling and powering its 113.6 million homes.
Of course, there are solar panels on the roof. But in addition to that, the building's envelope features improved insulation and air tightness, according to a video released about the project, and its timber frame has been thickened. New windows and skylights have been put in, while existing ones have been enlarged.
Rather than existing as a "sealed box," HouseZero is designed to interact with the seasons and environment, sometimes rapidly adjusting itself to achieve comfort for its occupants without using powered HVAC systems.
For example, the home uses a "window actuation system" that relies upon software and room sensors to automatically open and shut windows as the outside temperature changes, intelligently moving air around the home to make it cooler or warmer (through cross ventilation and convection). This process is also driven by a "solar vent" in the basement.
When the weather gets too extreme for this system, the home turns to a ground source heat pump that pushes naturally heated or cooled water through the floor slabs of the home.
Drawing on data from hundreds of sensors around the home, HouseZero will serve as a "living laboratory" that researchers can control, adapt and learn from, offering "an unprecedented understanding of complex building behavior." The goal is to create a blueprint for retrofits that can reduce building-generated energy consumption and save property owners significant money.
"By creating both a prototype and an infrastructure for long-term research, we hope to raise interest in ultra-efficient retrofits and inspire substantial shifts in the design and operation of buildings," said Ali Malkawi, a Harvard researcher who is leading the project, in a statement.
Email Teke Wiggin.