How does it feel to know one of your fights have been nominated as 2015 New England MMA fight of the year?
It is pretty cool, I wasn't expecting it and thinking back it was a huge fight. The guy I fought was real tough and was from the same gym I used to train at. We both didn't give up, it was a title fight and I was defending my title. For that fight I had the mindset to go and finish him, but I couldn't and was pissed about it. The important thing was that I won.
Mix Martial Arts is one of the toughest sports to train for, what drives you to compete?
It's simple, I just love it. The fear of competing and the anxiety that it gives me before I fight is what it's all about. I hate it in the moment, but it's worth it in the end. All you emotions get tossed away and it's just an indescribable feeling.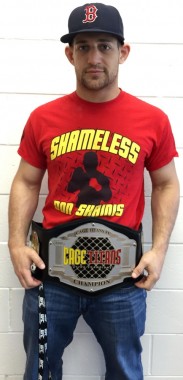 When did you know you wanted to become pro fighter? 
I always wanted to be a pro athlete since I was a child and I am close to making my dream become a reality. I gave up working the 9-5 crap and wanted this to be my profession. I use to work for a flooring company and they were extremely good to me, but I had to quit because it wasn't allowing me to dedicate the time to train. Right now I am just working on the weekends to cover my bills.
Going into 2016 what are your goals?
I treat this like my full time job and I go out and try to get sponsors. I want people to see the passion I have and become more recognized. Try to market myself, when it comes down to it everyone is good at fighting, but what you have to be is marketable. The more exposure you can get, the more value you create for yourself. I love fighting, but I am not the type that tries to pick up a fight every week, I want to be able to compete as long as I can. I am looking for tough fights that are going to get me to the top.
What is your ultimate goal?
You're going to see me in the UFC. No one is working harder than me, I work with the best personal trainer twice a week, I am surrounded by the best coaches and training partners around. Red Line Fight Sport has offered me so many great training partners. Eric my coach is always pushing me to be the best and he is someone that believes in me. I have trained at other gym's and I was good but no one asked me if I wanted to compete or saw the value that I saw in myself. Bottom line is you are going to see me in the UFC.
Facebook page:
https://www.facebook.com/Shameless-Don-Shainis-324483334419740/