Uber joins forces with Nasa with to develop software with the goal of managing "flying taxis." They aim to make sure the experience is just like current Uber where it works as a ride-hailing service. Imagine drunk nights where obviously safety is first. Being able to experience being off the ground will be amazing. They plan to release the "flying taxi" in 2020.

Uber said on Wednesday that their deal to cover low-altitude airspace rather than outer space idea came from Nasa (National Aeronautical and Space Administration). Which now their first formal service contract becomes active. It turns out NASA has used the same contact to develop rockets in the late 1950s

"Chief Product Officer Jeff Holden also said Uber would begin testing proposed four-passenger, 200-miles-per-hour (322-km-per-hour) flying taxi services across Los Angeles in 2020, its second planned test market after Dallas/Fort Worth." - Reuters


Ubers challenges against legal battles around the world make it very intriguing that they have decided to take on this new test. Like in London where is appealing against an unfortunate decision to take away the companies license due to safety concerns.

"There is a reality that Uber has grown up a lot as a company,"

Holden talks about Uber's latest air taxi idea at the Web Summit ( an internet conference located in Lisbon), Where he insisted on winning the approval from aviation regulators way before introducing the flying taxi concept.

Holden stated in an interview before his speech. "We are now a major company on the world stage, and you can't do things the same way where you are a large-scale, global company that you can do when you are a small, scrappy startup."

The agreement with Nasa focuses on scaling issues involved I working with over thousands of driverless aircrafts over various urban areas and co-exist with city laws and regulations. With hopes that this is air efficient also allowing these driverless Uber plane to work around bust airports without disrupting the flow.

Uber's vision of a fleet of electric jet-powered vehicles consists of being a part drone, part helicopter, and part fixed-wing aircraft. Being operated by small rotors capable of vertical take-offs and horizontal flights.

As being signed by Embraer, Bell Helicopter and Pipistrel Aircraft have the task to develop and vertical take-off and landing while Uber is building software to manage networks in the sky for flying taxis and collaborating with manufacturers like Aurora Flight Sciences to further speed up development.
Uber partners with NASA on flying taxis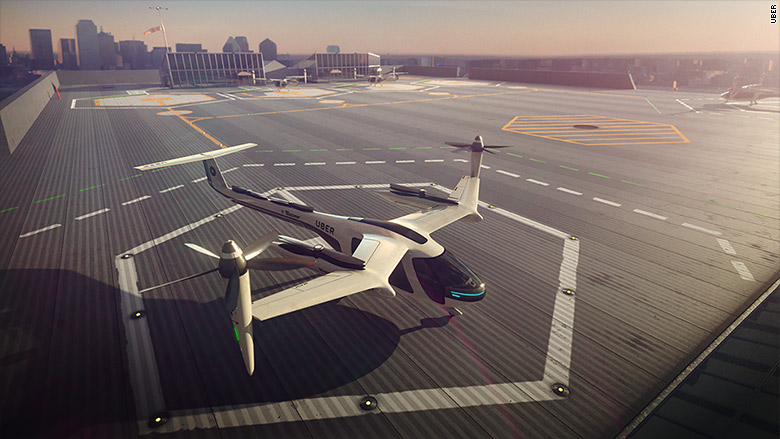 Uber continues to aim for the sky.
The tech company has partnered with NASA to help it develop air traffic management systems for its flying taxi initiatives, chief product officer Jeff Holden said on Wednesday. Holden made the announcement at Web Summit, a technology conference in Lisbon.
Uber previously unveiled its plans to introduce flying taxi fleets, known as uberAIR, in April.
The four-person ridesharing flights won't become a reality anytime soon but Holden said there are plans for demonstrations of the flying car network in Los Angeles, in addition to previously announced cities, Dallas and Dubai, in 2020.
The tech firm has agreements to work with other aviation companies, but this is the first time it has formally partnered with a federal U.S. agency. Uber's partnership is part of NASA's Space Act Agreement, a consortium of industry players working to ensure "safe and efficient operations" of its taxis and other small unmanned aerial systems flying at low altitudes.
"These are exactly the kind of partners we need to make uberAIR a reality," Holden said of NASA.
NASA did not immediately respond to a request for comment on the project.
Known for its unmanageable traffic, Los Angeles will make for an interesting test bed for the flying vehicles.
To get a sense, Uber projects that trips from the Los Angeles airport to the Staples Center during rush hour will take less than 30 minutes — down from 1 hour 20 minutes by car. It expects to offer rides in the flying taxis for prices comparable to its UberX service.
The goal is to make transportation fast, and inexpensive — and it hopes the service will be ready for commercial operations "several years ahead" of the 2028 Olympics in Los Angeles.