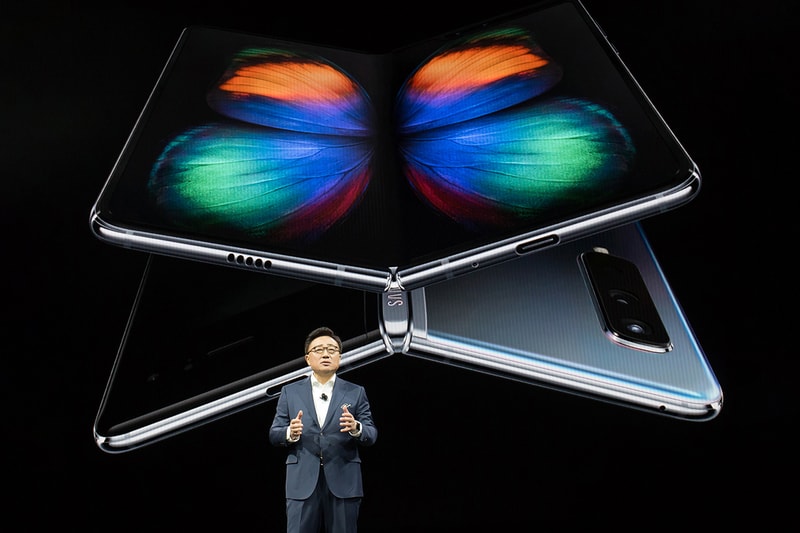 After an initial prototype emerged last year — before leaks and teasers came this month — Samsung has now officially announced its foldable smartphone. Titled the Galaxy Fold, the phone features a tablet-sized Infinity Flex Display which, using a hinge system and interlocking gears, can be folded in half.
As well as the phone's specifications — including a QXGA+ resolution (4.2:3) when open and a 4.6-inch HD+ (12:9) display when folded, a Qualcomm 7nm octa-core processor, 512GB of storage and 12GB of RAM — another key feature of the Galaxy Fold is its three cameras. The phone features a 16-megapixel ultra-wide camera, a 12-megapixel wide-angle telephoto camera and a 10-megapixel front-facing selfie camera. Although, despite all of these features, the phone has caused most of a stir due to its $2000 USD price point.
To mark the phone's official confirmation, we asked a number of tech industry experts and insiders to give their thoughts on the big announcement from Samsung.
Samsung
Why do you think Samsung wanted to do this?
Mat Smith, UK Bureau Chief at Engadget: Samsung wanted to prove it can do something new  — and it did that. In a way, it's a bit of a shame the company teased it so aggressively, and yet had nothing to show to journalists at its big Unpacked reveal. Not even a static phone in a glass box! Outrage!
Sascha Segan, Lead Analyst at PCMag.com: Samsung is suffering declining sales in part because smartphones in general are boring and expensive right now. The company needed to get people excited about phones again.
Natt Garun, Senior Tech Reviewer at The Verge: Samsung has worked on a foldable screen for several years now, and I think it was well-timed to come out during the company's 10th anniversary of its Galaxy S phone line. The concept of a tiny, folding phone or computing device has a been a staple of science fiction for years, and I think Samsung wanted to push the bar forward to that reality.
Brian Chen, Lead Consumer Technology Writer at NYTimes: Historically, Samsung started out in the smartphone business with a reputation of being a "fast follower" of Apple, or a company that was particularly good at making phones that were very similar to the iPhone. (This led to several lawsuits, with Apple and Samsung accusing one another of copying.) Over the years, Samsung shed the copycat image by constantly pushing the envelope with innovative features — namely, it was the first company to successfully sell smartphones with jumbo screens, a trend that everyone, including Apple, followed. Today, the industry recognizes Samsung as an innovator, and the Galaxy Fold is another example of how it is continuing to experiment with bleeding-edge ideas.
Do you think this phone will catch on?
Mat Smith: I think the Galaxy Fold is the first step towards a genuine foldable smartphone without pitfalls. But it's still that — the first step. The fact that I didn't get to touch it  — or even scrutinize it in person — is a red flag. Personally, I think it looks gorgeous unfolded — but atrocious folded up. That tiny screen, all that plastic? It looks like a Nokia phone from 2009.
Sascha Segan: The Fold is just too expensive to be a best seller. But the underlying technology – flexible, foldable screens – will appear in a lot of future devices, and the company needed to get that ball rolling by having a real device on a production line.
Natt Garun: At its current price point, probably not. I think a handful of enthusiasts and early adopter will likely buy it and it will be a status symbol just as the first $1,000 iPhones were initially status symbols, but eventually, lower end models will probably come onto the market whether through Samsung or other competitors.
Brian Chen: Not in the near term. The price is too high to appeal to mainstream consumers, and as a first-generation product, it raises plenty of questions. When folded up, it looks thick. Will this feel bulky in the pocket? And what about apps? Samsung showed some apps on stage made for the Fold by Google, but it's unlikely that many software developers will invest resources into making apps that work for a phone with such a niche audience.
In the long term, maybe, when the price goes down and the technology matures so that the product is thinner when folded up.
"The underlying technology — flexible, foldable screens — will appear in a lot of future devices."
Do you think this technology will catch on?
Mat Smith: It's up to Samsung to prove and demonstrate that there's a need for this mid-way tablet-phone. The jury is out. And that $2,000 price tag? There was a collective groan from both the London and San Francisco events. You could get a laptop for that. Or buy a rival flagship phone and a tablet at the same time.
Sascha Segan: Yes. With 5G, carriers are going to want to deliver big-screen, HD experiences – but you can't fit a big screen in your hand. Folding the screen in half lets you have both a big-screen device, and a truly handheld device.
Natt Garun: I think it definitely has the potential. Many heavy phone users have long complained about preferring thicker phones for longer battery life, and the Galaxy Fold has two which already tackles that issue. And I think people do enjoy devices that feel modular and multi-purpose – much like laptops with detachable screens that turn them into tablets, or Nintendo Switches that sync up and become a larger multi-player screen.
Brian Chen: I do think flexible display technology will be a trend in the coming decade. I think the implications are very interesting. When tech companies take flexible displays and apply them to other products like television sets or smart watches, we'll see some neat new products, like TVs that can be rolled up like yoga mats, watches with screens built into the bands that wrap around your wrist. Of course, the tech will only catch on if it becomes considerably cheaper, which seems inevitable.
What do you think of the price point?
Mat Smith: It's a lot. Early adopters? Some of them will bite. Remember the Apple Watch? I'm still holding my final verdict for when I get to handle one myself.
Sascha Segan: The Fold is ridiculously priced. The price is comical. Almost nobody's going to buy it at this price.
Natt Garun: Aggressive! I'm not certain it is going to be the smartphone that people buy to use as their primary device, especially this early on, since we don't know which apps are supported by Samsung's App Continuity that would make the best use of the Fold's mechanism.
Brian Chen: At $1,980, Samsung is obviously targeting early adopters and technology enthusiasts, so a pretty limited audience.
"I think it looks gorgeous unfolded — but atrocious folded up."
Do you think any competitors will launch their own foldable phone?
Mat Smith: Niche companies, like Royole, have shown off their early foldable devices. And MWC, next week, the world's biggest phone show, should unearth a few more foldable phones — most likely from Chinese competitors like Huawei and Xiaomi. I'm not sold on the concept yet. But it's nice to see something a little different. Smartphone innovation, seeing something truly new, has been rare the last few years.
Sascha Segan: Yes. We think Huawei will launch one next week. That's a big deal because Huawei is Samsung's top competitor in the global smartphone market, and Huawei dominates in China.
Natt Garun: Why not?
Brian Chen: Huawei already tweeted an image teasing a foldable phone that it will show at Mobile World Congress, the tech trade show in Barcelona, next week. There will almost certainly be more rivals in the next couple of years, particularly from the highly competitive Chinese handset makers. But consumers will ultimately vote with their wallets on whether having a foldable phone is a worthwhile investment — and whether this becomes a lasting trend or a flash in the pan.
Click here to view full gallery at HYPEBEAST